About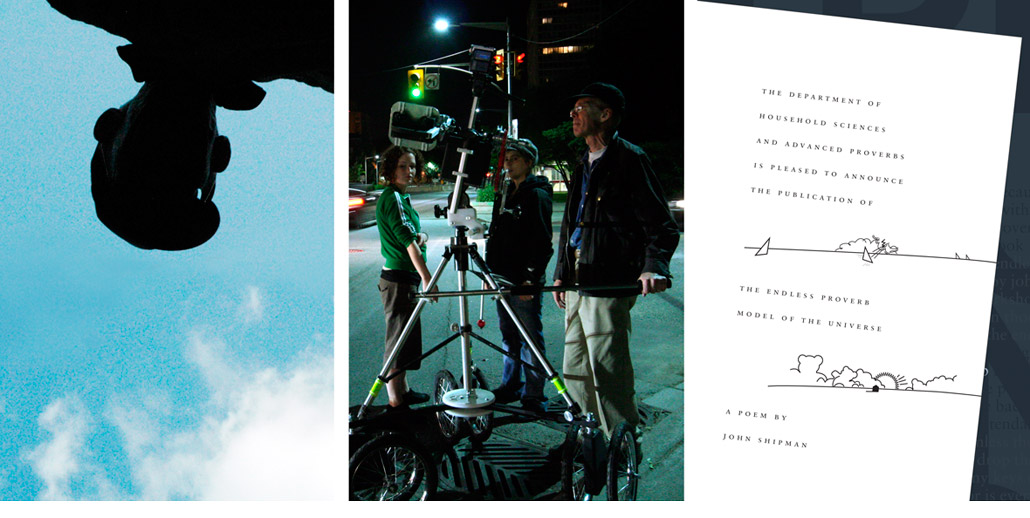 John Shipman
John received the Ontario College of Art and Design University's Medal for Integrated Media in 2007, and his audio and video projects and collaborative interactive multi-media installations have been shown in Toronto, Paris, Berlin, Madrid and the United States.
Nuit Blanche Toronto 2017
15000 Years of Housekeeping — a large participatory installation celebrating 15000 years of planning, organizing, storing, cleaning and repairing on Lake Ontario's North Shore and John's 12th independent project for Nuit Blanche Toronto — was presented on 30 September–1 October 2017 at St. Matthew's United Church, 729 St. Clair Avenue West. For more info, go to Housekeeping's project page and check John's blog.
Other installations and publications
In 2016, John examined books, libraries and bookstores as powerful means of human exchange in his 11th Independent Project for Nuit Blanche Toronto, 100 Libraries. 99 Books.
Tagged with small bells and the thoughts, worries and reflections of people ages 1 to 100 years old, The Great Journey of a Lifetime's 100-meter, ten-decades long StoryRope encouraged Nuit Blanche 2016 visitors to pause and reflect on others' lives as well as their own.
In November 2015, the Department of Household Sciences & Advanced Proverbs published a limited-run soft cover book version of The Endless Proverb Model of the Universe, John's 10,000 line, 10-hour-long poem exploring meaning and purpose, order and disorder, despair and wonder.
For a quick look at The Endless Proverb Model of the Universe, which was first presented on 5–6 October 2013 as part of John's Ten Models of the Universe by the Department of Household Science and Advanced Proverbs featuring the Endless Proverb, go to endlessproverb.ca
Other site-specific installations / video projects
John presented Dried Beans Models of the Universe on 4–5 October 2014 and on 29–30 September 2012, Caverne St-Clair 20012, a re-imaging of our present as the past by the distant future as though it were a lost cavern discovered 18,000 years from now.
During Listening to Love: Next time can we choose our gender? Nuit Blanche 2011 visitors heard words of love from voices whose sex and gender they chose on one of eight gendRphones and, thanks to a dedicated group of volunteer archaeologists, viewed artifacts from the Museum of Gender Archaeology.
Four camera-in-motion videos from John's Night Light Atlas of Toronto series from 2007–2010 were included in drift which ran continuously on all Toronto subway station screens during Scotiabank Nuit Blanche 2010 while in one of the city's large heritage churches, John presented a participatory installation about mortality and grief, memory and remembrance, All Night I Mourned Myself: When I am gone what will be said?
Other installations include In Search of a Wife in Search of a Husband (2009) and The Temptations of St. Clair: A twelve-hour collision between 2008, 1863 and 1140 (2008). Based on texts by Florence Nightingale, Charles Baudelaire, Gustave Flaubert, and Li Qingzhao, this multi-language, collaborative project was curated by Janna Hiemstra and included video from the Night Light Atlas of Toronto as well as live and pre-recorded music and audio by jazz vocalist Ben D'Cunha, vocalist Dianne Wells, Yann Vargoz, poet Gu Zhenzhen, violinist May Ing Ruehle, and other artists and musicians.
John's first two independent Nuit Blanche projects, Auditoria Illuminatorium (2007) and AS IS: Northern Lights Sanctuary (2006), were also presented at St. Matthew's United Church, a venue known for its exceptional acoustics.
Giant rainsticks and small bells
The sounds St. Matthew's magnificent pipe organ, chains, many small bells, giant rainsticks, music boxes, song and voices — live and well as recorded and computer-generated voices speaking French, Chinese, Korean, ancient Greek and English — make are integral parts of John's installations. His audio work also includes sound for No Commercial Value (2006) and Synaesthetic Anaesthesia, (2005), two films by John Kneller.
Photo · Marcelle St-Amant
From F.W. to S.B.A.

Government [ is ] housekeeping on the broadest scale.

Francis Willard in a letter
to Susan B. Anthony · 1898

Beginnings

Odd that we call the end of a rope or chain, the end; while in Greek it is the beginning.

Geoffrey Madan · circa 1930

Five theories of the universe

Three great scientific theories of the structure of the universe are the molecular, the corpuscular and the atomic. A fourth affirms, with Haeckel, the condensation of precipitation of matter from ether — whose existence is proved by the condensation of precipitation. The present trend of scientific thought is toward the theory of ions. The ion differs from the molecule, the corpuscle and the atom in that it is an ion. A fifth theory is held by idiots, but it is doubtful if they know any more about the matter than the others.

Ambrose Bierce · 1911

Can it be?

Can the universe be more than we can imagine?

Edla Puff · 2015