Dragging my video camera down the front steps
A curatorial project: 30 years of unconventional camera movements from the Vtape collection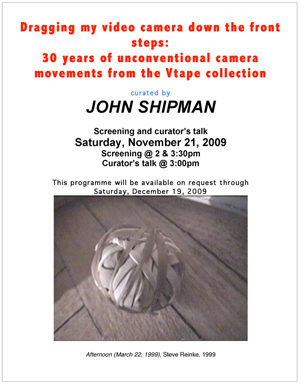 In 2006-08, John was a regular volunteer intern, working weekly in Vtape's technical facility in Toronto on the restoration of many early video artworks. During this time, he was also completing work for his graduating exhibition at Ontario College of Art and Design — using an apparatus that held a video camera and allowed it to record in unconventional ways. (His exhibition of this work was awarded one of OCAD's coveted year-end medals for excellence.) When offered an opportunity to participate in Vtape's Tales From the Crypt programme in 2009, John sat down and watched several hundred titles, looking for works that matched his own unorthodox interests in image recording.
John says of his selection: "Eight short videos, from 1974 to 2004, playfully use unusual camera positions and movements to create a slightly different visual gravity, showing things improbable, but viscerally informative. Most video images are recorded from locations closely corresponding to the eye position of a standing camera operator, and the orientation of the left and right edges of the frame are instinctively aligned with imaginary lines drawn to the centre of the Earth. Many, but not all, as Dragging My Video Camera down the Front Steps shows."
Eight short videos:
Loved and Lost · Leslie Peters · 1999, 0:02:45
Spit · Jeremy Drummond · 2000, 0:02:27
Crowdog · Vanessa Renwick · 1998, 0:07:00
(Loco)motive Series: The HEDDA Videos · Gunilla Josephson · 2000, 0:20:30 (four minutes 
excerpted with permission of the artist)
Motion Pictures at English Bay · Tom Sherman and Jean Piche · 1990, 0:06:20
Sex Me Up · Samuel Chow · 2004, 0:05:10
Afternoon (March 22, 1999) · Steve Reinke · 1999, 0:23:58
Psychology of Camera Presence · Martha Wilson · 1974, 0:08:50
This project included a curator's talk on 21 November 2009, an essay and a 60-minute program: the eight short videos by Leslie Peters, Jeremy Drummond, Vanessa Renwick, Gunilla Josephson, Tom Sherman and Jean Piche, Samuel Chow, Steve Reinke and Martha Wilson.
Read the Vtape essay.
Download the essay.
A not-for-profit distributor of artists' videos, Vtape has a large collection of videos from the 1970s on.
More information about its programs and collection is available at vtape.org