Libraries & books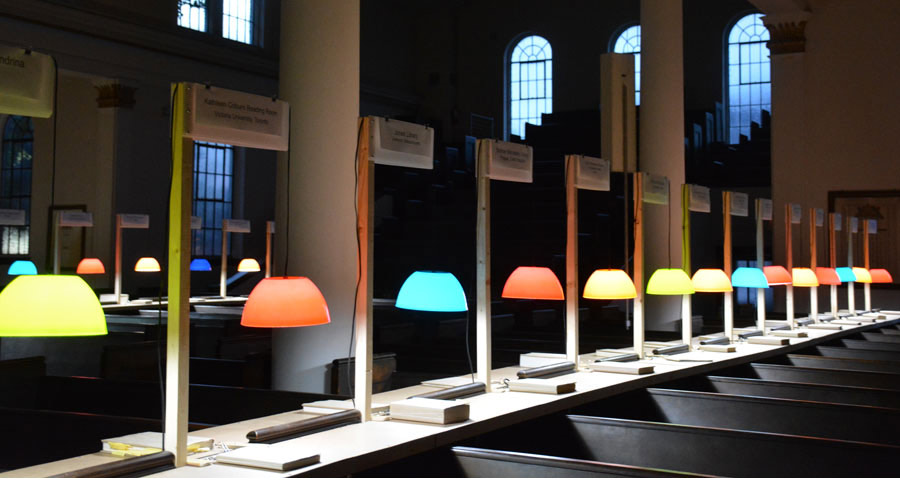 The list of 100 libraries and 99 books:
West Chester Public Library, Pennsylvania · Galore by Michael Crummey
 Biblioteca Nacional Buenos Aires, Argentina · Labyrinths by Jorge Luis Borges
Hippo School Parent Library, Toronto · A Patchwork of Memories
Devon Public Library, Alberta · Great American Marble Book
National Library of Canada, Ottawa · The Endless Proverb Model of the Universe by John Shipman
Bibliotheque Sainte Genevieve, Paris, France · Les Fleurs du Mal by Charles Baudelaire
Rush Rhees Library, University of Rochester, New York · City on a Hill by Loren Baritz
Malatestiana Library, Cesena, Italy · Cantos by Ezra Pound
Taipei Public Library, Beitau Branch, Taiwan · Letters to a Young Poet by Rainer Maria Rilke
Bibliotheca Alexandrina, Egypt · If Not Winter by Anne Carson
RISD Library, Providence, Rhode Island · Lives of the Artists by Giorgio Vasari
Jamestown Philomenian Library, Rhode Island · An Unsuitable Job for a Woman by P.D. James
Kibbutz Barkai Sifriyat Yeladim, Israel · A Tale of Five Balloons by Miriam Roth
John P. Robarts Research Library, University of Toronto · The Name of the Rose by Umberto Eco
St. Andrews University Library, Scotland · Henry the Eighth by Shakespeare
Springvale High School Library, Melbourne, Australia · Basic Wiring
Strahov Monastery Library in Prague, Czech Republic · Temptation of St. Anthony by Gustave Flaubert
Moscow Public Library, Idaho · Persuasion by Jane Austen / La Terre by Emil Zola
Hong Kong Central Library, China · The Ugly Chinese
Leach Public Library, Wahpeton, North Dakota · Love Medicine by Louise Erdrich
Palmerton Public Library, Pennsylvania · Cowboys and Cattle Trails by Sharron Garst
Mountain Lakes Public Library, New Jersey · Thirteen Clocks by James Thurber
Hellertown-Lower Saucon High School Library, Pennsylvania · The Centaur by John Updike
Toronto Public Library, St. Clair-Silverthorn Branch · Waiting for God by Simone Weil
Baysville Public Library, Ontario · Ashley Book of Knots
Delaware Art Museum Library, Wilmington, Delaware · Treasure Island by Robert Loius Stevenson with illustrations by N.C. Wyeth
Widner Library, Harvard University, Massachusetts · Aeneid
Morrison Library Reading Room, University of California Berkeley · Promethus Bound by Aeschuylus
Warsaw University Library, Poland · The Captive Mind by Caesar Milosz
Toronto Public Library, Forest Hill Branch · Madeline by Ludwig Bemelmans
Toronto Public Library, Main Street Branch · Freddy the Pig by W.R. Brooks
Ottawa Public Library, Elmvale Acres Branch · The Castle by Franz Kafka
Biblioteca Nacional de Chile, Santiago · La Araucanna by A de Ercilla y Zuniga
Endiang Junior High School, Alberta · Catcher in the Rye by JD Salinger
Stettler Public Library, Alberta · The Mystery of Cabin Island by Franklin Dixon
Edmonton Public Library, Whitemud Branch · Otherwise Known as Sheila the Great by Judy Blume
Mom's Home Library, Endiang, Alberta · Flint and Feather by Pauline Johnson
Beverly Cleary Children's Library, Portland, Oregon · Oxford Nursery Rhyme Book by Iona and Peter Opie
Toronto Public Library, Dufferin-St. Clair Branch · Nightmare in My Closet by Mercer Mayer
Hanford Public Library, California · Macmillan Book of Proverbs
Chicago Public Library, Irving Park Avenue Branch · Two Novels by Alain Robbe-Grillet
Chicago Main Reference Library · At Work in the Fields of the Bomb by Robert Del Tredici
Wychwood Open Door Little Library That Could, Toronto · The Good Woman of Szechwan by Berthol Brecht
London Public Library, Children's Library, Ontario · Little Bear's Friend by Else Holmelund Minarik with illustrations by Maurice Sendak
University College Library, Toronto, Ontario · Funk and Wagnalls New Standard Dictionary
Library of Clesus, Ephesus, Turkey · Anabiasis by Xenephon
Hawaii State Public Library, Hilo Branch · Fierce Invalids by Tom Robbins
Harry Sutherland Philatelic Library, Toronto · Stampin' Around or the Life of a Stamp Collector by Fred Jarrett
Yoknapatawpha County Library, Mississippi · As I Lay Dying by William Faulkner
Greater Victoria Public Library, Main Branch, British Columbia · The Way Finders by Wade Davis
Toronto Public Library Website · A Tale for the Time Being by Ruth Ozeki
Chicago Public Library, Logan Square Branch · Austerlitz by W.G. Sebald
Shrine of the Book, Jerusalem, Israel · Dead Sea Scrolls by R.O.M.
Copper Queen Library, Bisbee, Arizona · Tombstone Courage by J.A. Jance
OCAD University Library, Toronto · Art in Theory 1900-1990 by Harrison and Wood
Toronto Public Library, Spadina Road Branch · And Grandma Said... by Tom Porter
Vancouver Island Regional Library · Big Red by Jim Kjelgaard
Grey Nuns Hospital Patient Library, Edmonton • Long Time No See by Ed McBain
Indian & Northern Affairs Library, Yellowknife NWT • Times Arrow Times Cycle by Stephen J. Gould
City of York Board of Education Professional Library, Ontario · The Great Code by Northrop Frye
St. Petersburg State Theatre Library, Russia · Fat Cat by Jack Kent
Staatsbibliothek, Berlin, Germany · Der Schornsteinfenger als Fachzeichner
Birks Reading Room, McGill University, Montreal · Life of the Buddha by Ashvagosha
Toronto Public Library, Wychwood Branch · Where the Sidewalk Ends by Shel Silverstein
Edmonton Public Library, Jasper Place Branch · Book of the Hand by Paul Tabori
Odense Hovedbibliotek, Denmark · Logn Over Logn by Henrik Stangerup
Søborg Bibliotek, Denmark · Alle Tiders Soldatersange
Toronto Public Library, Deer Park Branch · City of Djinns by William Dalrymple
Cranbrook Library, England · Vita Sackville-West's Garden Book
Nunavut Circumpolar Library, Iqaluit · Eskimo Poems from Canada and Greenland
Department of Household Sciences & Advanced Proverbs Library, Toronto · America's Housekeeping Book
La Bibliotheque de Cap-Rouge, Quebec · Laurentides by Panorama Pictorial
St. Matthew's United Church Library, Toronto · Bible
Phillips Exeter Academy Library, New Hampshire · Ten Books on Architecture by Vitruvius
Bethlehem Public Library, Pennsylvania · Audacity of Hope by Barack Obama
Bibliotheque Municipale de St-Tite, Quebec · Lucky Luke Hors-la-loi
Memorial Hall Library, Andover, Massachusetts · Dark Hawk
Ayer Library, Massachusetts · Visual Explanations by Edward R. Tufte
Jones Library, Amherst, Massachusetts · Complete Poems of Emily Dickinson
Lillian H. Smith Collection of Children's Books, Toronto · Fairy Tales by Hans Christian Andersen
Toronto Public Library, Palmerston Branch · The Little Mermaid, The Story of Ariel
Enoch Turner School House, Toronto · Ontario Readers First Book (1928)
Kathleen Coburn Reading Room, Victoria University, Toronto · Saving the Appearances by Owen Barfield
Mills Memorial Library, McMaster University, Hamilton • Great War and Modern Memory by Paul Fussell
Regina Bookmobile, Saskatchewan · Little House on the Prairie by Laura Ingalls Wilder
Little Library at 123 Tyrell, Toronto · G.B.S. A Full Length Portrait by Hesketh Pearson
Inform, Faculty of Information, University of Toronto · The Tain translated by Thomas Kinsella
Halifax Central Library, Nova Scotia · The Waves by Virginia Woolf
Universitat Pompeu Fabra Library, Barcelona, Spain · De L'Allemagne by Madame De Stael
Little Sparta Library, Dunsyre, Scotland · Road Atlas: 3 miles to 1 inch
Buru Buru Library, Kenya · Ndoto Ya Mwendawazimu by Edi Ganzel
Brighton Public Library, Main Branch, Ontario · The Wolves in the Walls by Neil Gaiman
Toronto Public Library, Davenport Branch · Norval Morriseau by A.G. Ruffo
British Museum Reading Room, London, England · The Artist's Eye by R.B. Kitaj
Lehrman Library, Skowhegan, Maine · The Nude, A Study in Ideal Form by Sir Kenneth Clark
RISD-EHP Library, Rome, Italy · Giotto
Hunterdon Sailing Club Library, Clinton, New Jersey · Klutz Book of Knots
Newport Public Library, Rhode Island · Dave Perry's 100 Best Racing Rules Quizzes by Dave Perry
Library Zlin, Czech Republic · Impressions of Africa by Raymond Rousell
Toronto Reference Library · Closed Stacks Request [ not found ]
Too many to remember? Download the pdf list of all 100 libraries and 99 books.
Photo · Marcelle St-Amant
From F.W. to S.B.A.

Government [ is ] housekeeping on the broadest scale.

Francis Willard in a letter
to Susan B. Anthony · 1898

Beginnings

Odd that we call the end of a rope or chain, the end; while in Greek it is the beginning.

Geoffrey Madan · circa 1930

Five theories of the universe

Three great scientific theories of the structure of the universe are the molecular, the corpuscular and the atomic. A fourth affirms, with Haeckel, the condensation of precipitation of matter from ether — whose existence is proved by the condensation of precipitation. The present trend of scientific thought is toward the theory of ions. The ion differs from the molecule, the corpuscle and the atom in that it is an ion. A fifth theory is held by idiots, but it is doubtful if they know any more about the matter than the others.

Ambrose Bierce · 1911

Can it be?

Can the universe be more than we can imagine?

Edla Puff · 2015