Night Light Atlas of Toronto
An open engagement with gravity · 2007–2010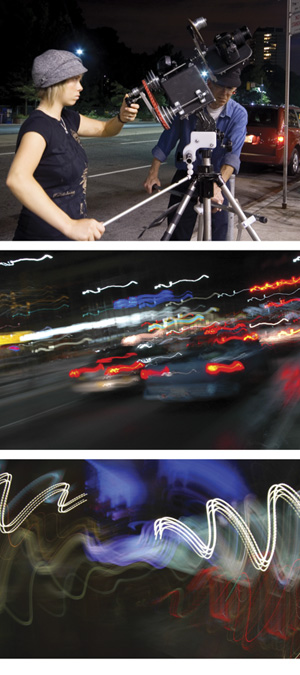 Night Light Atlas of Toronto (NLAT) is a collection of videos made in 2007–2010 from long exposure still images taken by a moving camera on the streets of Toronto.
A record of what we have already seen
Compiled from continuous digital still images exposed from one to eight seconds using a Camera-in-Motion — a camera mounted on a human-powered mechanical device which enables simultaneous panning, tilting and rotating around the axis of the camera's lens as it moves over ground, Night Light Atlas of Toronto images transform what we see into spectacular trajectories of colour, and confound the visual clues we use to locate our position in the world and the direction of gravity on our bodies.
Featured on drift during Nuit Blanche Toronto 2010
A program curated by Sharon Switzer for Scotiabank Nuit Blanche Toronto 2010 featuring video work by David Frankovich, John Shipman and Anda Kubis, drift played continuously for 12 hours on all Toronto subway station screens and included four videos from John's NLAT series:
Queen Street West at John Street · 23 March 2007 · 0:02:00
St. Clair Ave. West: Arlington St. to Vaughan Road · 4 June 2008 · 0:01:25
Dundas Square · 9 July 2008 · 0:03:25
Bloor Street West: Bay Street to Avenue Road · 23 July 2008 · 0:02:45
Watch NLAT videos on drift.
John's video work also includes Temptations of St. Clair (2009), Where is the Yellow which was a Toronto Urban Film Festival selection in 2009, At Sea on Land (2005), Rewind: A Narrow Road to the Deep North (2005), Sound of Red: A Local Accident (2005), I Remember Red: A Global Accident (2005), Rogues Parade in Plato's Cave (2005), Seeking Harbours of Refuge (2004), and The Aesthetician's Possibilities (2004).
Photos · NLAT 2008