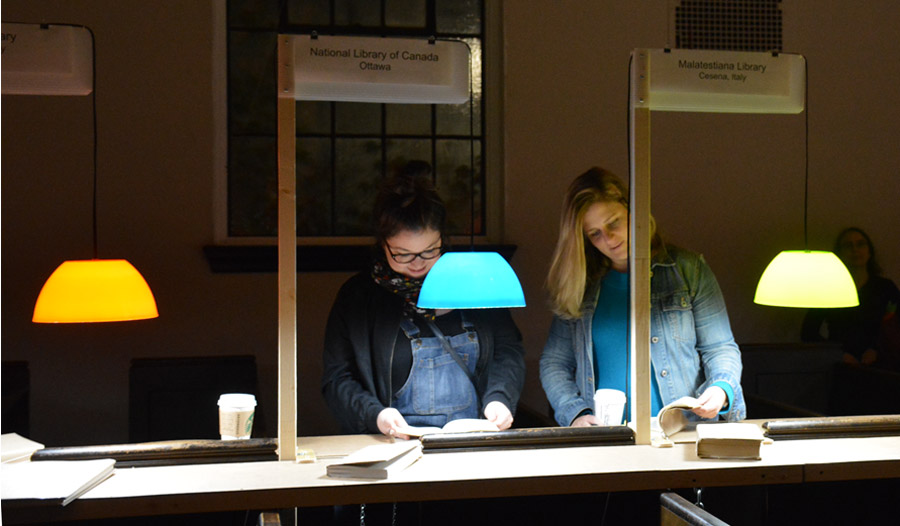 100 Libraries, 99 Books · 1–2 October 2016
Simple and brilliant!
We are excited to be here with our girls!
It was very nice, serene exhibit. Casually we can interact with art work. Good idea.
Thanks, John, for bringing more art into our neighbourhood every year.
Very cool idea! Beautiful lamps! We loved it, great job, John, as always.
Book
Congratulations John and team!
Congratulations.
What a lovely creative event! I love it.
This exhibit makes me realize the mysterious power of books and I enjoyed trying to connect with the mystery! Thanks for a great experience.
Wonderful! Great selection and tour around the world's libraries.
Great installation, makes you think.
Superb ambiance!
What fun to try and figure out the title.
Great idea! Loved browsing thru so many varied kinds of writing.
Thanks! It was very thoughtful.
Awesome installation.
This was amazing.
I loved engaging with the work. There was so much effort that was put into it.
Wonderful! Great tribute to libraries and community spaces.
Very interesting. Immensely enjoyed ourself. Great idea!
Cool
Thanks! This exhibit was really cool. I loved accidentally finding the post cards in the books!
It's an oddball experience. Thank you.
Hi. Excellent.
Impressive! Thank you!
A lovely way to spend the evening.
Very pretty and a cool way of experiencing a whole world through literature.
Great Tinder date.
I like books.
Great display! Love the selection!
I love books!
Congratulations again! This year's was even better than last.
French books are awesome!
Thank you for the reminder of libraries around the world.
Thank you for the many perspectives on life—and a reminder of the riches hidden in the wide and not so wide corners of libraries.
Very artistic, beautifully done! Thank you!
Thoughtful, beautiful space filled with wonder!
John rocks! Inspiring! Great exhibit as always!
Beautiful and inspiring as always, John! The book from the Alexandria Library and the juxtaposition of isolation and socialization was great!
I felt like I travelled the world through books! Amazing!
So perfect, the lights, sounds, feel of the books—oh my. Thank you!
Wall-E loved his time here! Thank you.
Always the best part of Nuit Blanche again this year.
I think I've fallen in love with literature. I read for one or two hours each day. I only have one life to live, but in books I can live thousands.
Thank you for always participating in Nuit Blanche!
Fabulous! Thought provoking!
Very contemplative and intimate.
Good job!
Great idea for Nuit Blanche.
Excellent concept, well executed.
Indulging my curiosity, trying to guess which book is matched with each library. Really excellent exhibit.
What a wonderfully crisp exhibit full of tactile delight. It brought me back years and took me to places I'd never thought to visit.
Thanks for a wonderful display of the love of reading. Fantastic; wish it could be around for a week. Enjoyed making my own book!
We so enjoyed the transformation of the space. It works really well as a library.
Thank you very much. Lots of interesting choices, love it but sadly lots more to see. Couldn't stay as long as would like to.
I loved it. Thank you!
This was an amazing experience and beautiful space you chose as well. I loved it and I hope to see another exhibit next year.
Amazing! Mesmerizing! Well worth the journey here...very relaxing and meditative.
I love it.
Keep the books alive! Great show!
This location always has such interesting exhibits. The lighting was soothing. The setup brought me back years to when my life was more peaceful. I actually sat for quite a while and read an intriguing book written by Ed McBain. A wonderful exhibit. See you next year!
Loved location! I loved the idea. Love the lights.
Hi, I'm with my friend Noah, we are exploring books and.....hope to find a tree...
Such a pleasure, as always. I loved the soothing ambiance of the library and brought my favourite book to add to the collection. I wish a place like this was always open to explore, to rest and reflect. Thank you so much for this experience.
That was lovely! Thank you.
Thank you, John, for another thought and feeling provoking installation. I've always loved libraries. I loved travelling to so many in one evening.
I enjoyed the book and listening to the chains.
Fabulous as usual.
Me encanto estan la raja las luceatas! Sisan asi! From Chile!
Amazing.
We loved the concept. Thank you for including our favourite library!
Thank you. This was amazing. I hoped to see something from the Biblioteca National in Buenos Aires...and I was not disappointed! The sounds of the chains! Readers in contemplation! What an atmosphere. Dream come true!
Wonderful!
Great experience!
Beautiful—the sound of the chains is perfect!
Thank you, books are so important!
Thank you—very good to know this.
Good thing the cat did not eat the building!
Such a simple and brilliant idea—so much organizing with many libraries. Thank you for your time! See you next year.
A wonder. Thank you, John Shipman, for another amazing experience.
Very good.
Great exhibit. Very interesting. I work at Toronto Reference Library and feel bad that our location disappointed; you only got 99 of the 100 books.
Wonderful as always. The perfect way to end Nuit Blanche.
Wonderful idea!
Wonderful John! Congratulations!
Awesome!
I loved the books from Denmark!
John, it was such a pleasure having the opportunity to help you with the set up of this glorious project! Thank you.
Wonderful exhibit. The story of how the books are chosen made it even better. Thank you.
Photo · Marcelle St-Amant